The 2016 California Statewide Local Streets and Roads Needs Assessment Report was released last week. No surprise to any of you, the 2016 Report found continued decline in pavement condition, bridges and essential components that make up the local street and road system. The average condition has dropped from a 66 on the Pavement Condition Index (PCI) [a scale of zero (failed) to 100 (excellent)] to a 65 which is in the "at risk" category. While this drop may not seem significant on its own, consider that since the inaugural report in 2008 the number of counties with an average PCI in "good" condition has dropped from 16 to 6 in just 10-years.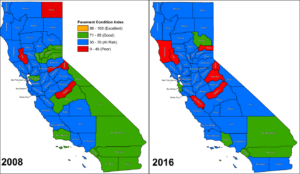 Since 2008, NCE has performed the Statewide needs assessment study of 539 cities and counties in California and has updated it biennially in 2010, 2012, 2014 and the most recent report in 2016. The scope of work includes collecting data on over 143,000 miles of local streets and roads, or over 80% of the state's publicly maintained roadways.
The major tasks in this study include data collection from all cities and counties. These data is reviewed, summarized and evaluated. A methodology for standardizing the comparison process (converting all "apples" and "oranges" to "strawberries") was developed in 2008 and continues to be utilized. This considers agencies with old data, missing data or no data. The results are presented to a variety of audiences including the California Transportation Commission, the State Legislature, Regional Transportation Planning Agency Planning Group and industry representatives.
Please visit www.savecaliforniastreets.org to download a copy of the report.