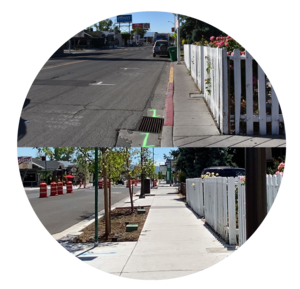 The Regional Transportation Commission of Washoe County (RTC)'s $90M transformation of Virginia Street in Midtown Reno is substantially complete (see the video at https://www.youtube.com/watch?v=0dq2rG0Hk5I). NCE led the overall design effort for RTC's marquee complete streets project, which features new, wider sidewalks; new bus shelters; level bus-onboarding; bicycle improvements; associated roadway improvements; and welcoming landscaping and aesthetics.
The Virginia Street Bus RAPID Transit Extension Project extends the RTC RAPID service from the 4th Street Station to the University of Nevada and provides an accessible, pedestrian-friendly corridor. NCE provided support throughout the project, including:
Prepared federal funding applications, encroachment permits, and environmental documents.
Conducted agency and public information meetings and creating a related, interactive website for the project.
Performed investigations and analyses of drainage patterns, geotechnical conditions, existing pavement, traffic patterns, right-of-way, topography, and utilities.
Identified sustainable and feasible pavement rehabilitation and/or reconstruction alternatives and developed the recommended alternative.
Provided transit station architecture and structural design.
Designed landscaping and aesthetics improvements.
Developed preliminary and final design plans and estimates for the preferred alternative.
Performed Construction Manager at Risk support services, which included participation in value engineering and risk workshops, response to requests for information, and review of submittals.
The Virginia Street Bus RAPID Transit Extension project – the first of multiple projects stemming from the Virginia Street Corridor Investment Plan – finished ahead of schedule and under budget.